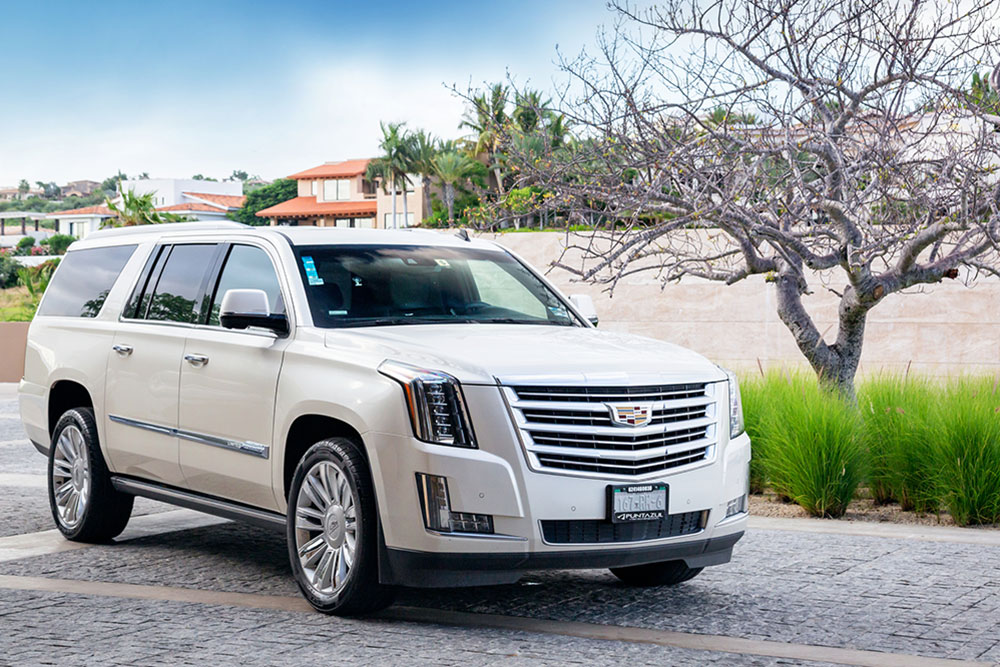 Arrange safe, comfortable rides for all your wedding guests
Private Transportation
Reservations
Cabo Transportation:
Hire Private Drivers with Luxury Vehicles in Los Cabos
Airport Transfers • Wedding Guests • A Night on the Town • Visiting Local Sites 
Get where you need to go in comfort
We provide top quality, new, clean, air-conditioned luxury vehicles so our customers can ride comfortably to their destination.
Eliminate stress upon your arrival in Los Cabos
Hire our private transportation services to get to and from the airport. You won't need to worry about language barriers because all our professional drivers are bilingual in Spanish and English. Ask your driver about the best local spots and venues in the city, and they will make sure your trip is unforgettable. Plus, if you need to stop for groceries on the way, we can help with that too!
Hire a top reviewed transportation company you can trust!
Cabo Transportation constantly receives good reviews from our customers on TripAdvisor and is a  top tier transportation company in the area. We have been ranked as the highest quality transportation provider in Los Cabos for the past fifteen years and running!
Ride safely in our luxury vehicles
All our vehicles are well maintained and updated. Our top priority is your comfort and safety.  Our experienced drivers are properly licensed, friendly and trustworthy. They work on salary and not on a per trip basis, which means they aren't trying to speed back and forth from the airport to squeeze in more clients.  
The best option for your child's safety
We feature an assortment of complimentary car seats for all different size & age of children. Our transportation fleet includes a selection of different vehicles and top quality baby seats for any toddlers or children traveling in our vehicles. Click here for more information.
Our drivers are completely at your service
Cabo offers private transportation that will be waiting for you when you arrive at the airport. You won't have to share a vehicle with strangers and we'll take you directly where you need to go. Simply tell us your destination and when you need to be there, and we'll ensure you arrive safely and on time.
Enjoy your ride without feeling pressured to buy
Unlike other transportation services in Cabo that are affiliated with timeshares or touring companies, Cabo Transportation will not try to sell you anything. Our primary focus is to provide you with transportation services that will ensure you are well taken care of during your stay in Los Cabos.
Our chauffeured vehicles are in high demand!
Our transportation services are in high demand and many of our valued customers book far in advance to secure their preferred chauffeured vehicle for their transportation needs. Be sure to make reservations for your private transportation in Los Cabos early! Call us toll-free or make your transportation reservations online. Our reservation staff will be happy to assist you with your booking.
At Cabo Transportation we are committed to providing top quality transportation services to our customers. We value our customers and want you to have a restful time in Los Cabos whether your visit is for business or pleasure.